Words in Pictures: Artist Warden Tells Stories from Old 35mm Film
---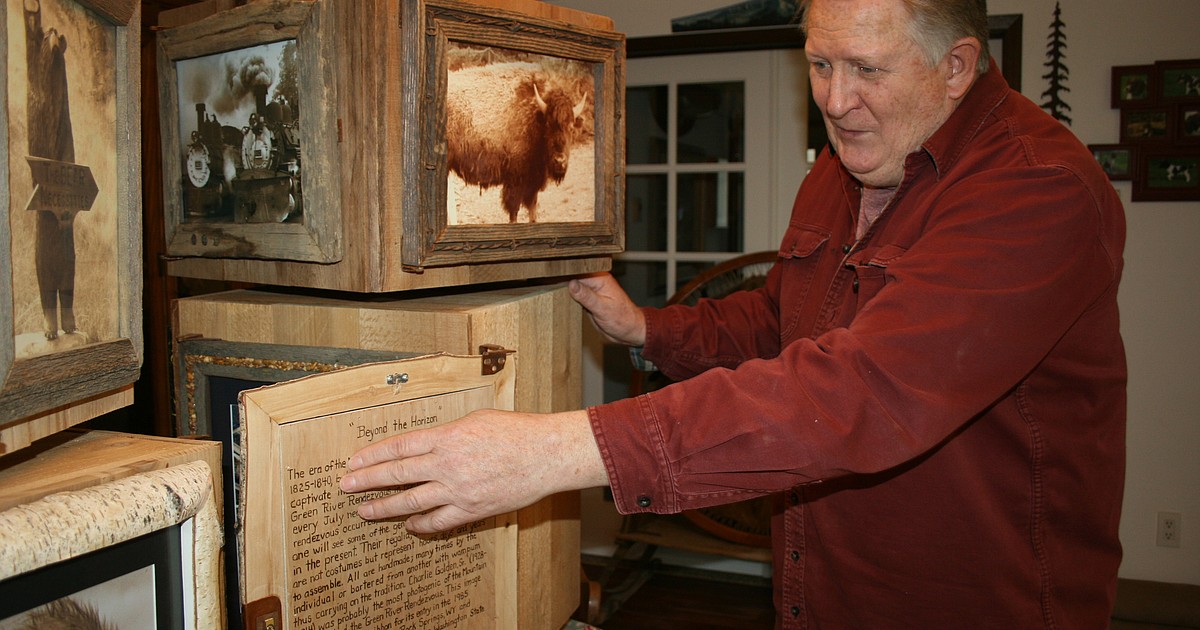 WARDEN – Vinnie O Bannon has been a photographer for most of his adult life and has the 35mm film negatives to prove it.
And he loves telling stories, especially stories with a twist or clever pun. Most of them are even true, he said.
The Warden-based artist has combined the two with his carpentry and woodcut skills to turn his old photos into something unique, which will be on display at the Basalt Collective Fine Art Gallery, 114 E. Third Ave. at Moses Lake starting February 4. .
O Bannon builds his own frames. He inserts objects into each frame, but it all started with the negatives.
"The negatives were in an apple box. I always kept them, I always wrote what was on them. But what are you going to do with 35mm negatives? he said.
He only really had an answer in 2014, when he acquired a scanner that allowed him to keep old negatives.
"I started scanning and thought some of them were good enough to frame," he said. "Personal favorites I haven't seen in 40 years."
He wanted to record the subjects, so he started writing information on the back.
"And it just progressed from there to here," he said.
Well, he didn't just want to write the subjects of the picture. Many of them suggested a story.
"You walk up to a photo and say, 'Oh, that's interesting. What is this?' And I respond," he said.
His photograph of wild horses inspired the story of an angry hotel guest long ago.
"The story on the back is 'Wild horses couldn't do me.' And that's kind of true. A guy walked into the Holiday Inn, if I remember correctly. He got mad and he cut the front desk in half with a chainsaw," O Bannon said.
He ended the story with the hotel guest exiting, mounting his horse, and riding through town.
But he wanted to keep the story with the image. And that's where his carpentry and wood burning skills came into play.
He uses anything from beads to metal to braided horsehair, in the case of the angry hotel guest wielding a chainsaw.
"The executives are all 100 years old. The wood is," he says.
Some are encrusted with rusty barbed wire.
"It's definitely 100 years," he said.
The story is etched with a carpentry tool onto thin pieces of wood, which are then added to the back of the frame. Some stories are short, others are long and require several pieces of wood. The long stories are articulated together.
"I want you to interact with him. That's the whole point," he said.
O Bannon affixes the images to carousels he constructs, attaching the photograph with a hinge. The viewer opens the photo, like opening a door, and finds the story hidden within.
Tucked into the stories are visual surprises. A photo of his wife Terri with a deer trophy turned into the story of a young Irish girl and her skills in butchering the carcass, a story that unfolded over two or three boards. O Bannon used an enameled metal trefoil to hold the boards in place.
It took him a while to find the right tools, he says. He used a soldering iron on his early storyboards before discovering the more nimble wood burning tools. This allowed him to develop fonts for his stories, and even add illustrations.
A few photos are purchased, including a vintage photo of moose bones and a human skull.
"I remembered it 25 years ago and went looking for it," he said.
It illustrates the story of an eventful hunting trip with his brother, where they encountered a man who bore a striking resemblance to a character from the Popeye cartoons. O Bannon added a character drawing of Popeye to his storyboard.
A photo of Old Faithful led to a story about his wife's accident with a mustard bottle that splattered mustard all over the inside of the Volkswagen family bus.
"It's the kind of thing that works really, really well. I guess you could say fond memories," he said.
"The machinist" is a family tale, a photo of his maternal grandfather, very skilled in the trade of machinist. His instructor inspected a sample his grandfather had made, then picked up a mallet and smashed it into pieces. That way it wasn't perfect, O Bannon said.
There is a photo of a half-buried hand grenade from a military exercise long ago and the events that happened when O Bannon turned it into the authorities.
"That's what happens every time I walk into a police station with a hand grenade," he said. "A lot of times (the story) starts with a bit of backstory and then I go to the punchlines. I've gotten you to the point where you're like, 'Oh, this is going to be boring.' And then – well, I understand you.
Images and stories will be part of his legacy.
"That's what I'll leave behind when I'm out of the picture," he said.