The World's Greatest Shadow Artist, Kelly Slater, Paints a Masterful Portrait as Filipe Toledo Wins the Inaugural Title: "He didn't need to go out and hurt himself in Teahupo'o on a big day. He is the world No. 1. It doesn't matter what comes to Trestles!"
---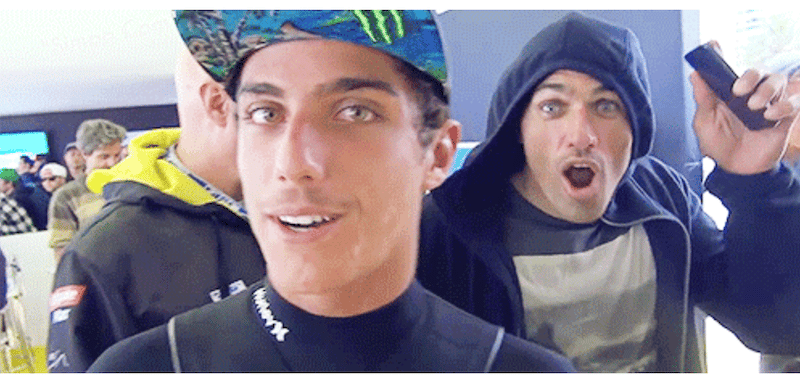 See you soon, 2022.
As above, so below.
Turn it any way you want, Mr. Logan, but it wasn't a worthy ending to anything that's come before.
Wave quality for finals day at Trestles was average.
Worse, it was soft.
The result? Two soft world champions.
Stephanie Gilmore just made the cut in Margaret River. She didn't even surf Pipe. She barely surfed Teahupo'o.
Convince me that she deserves this world title. Convince me this is progress.
Carissa Moore had a lead of over 11,000 points. A complete victory in the event, plus an extra.
Moore should have another title this morning, and she has every right to feel terrible about not having it. All that work, all that effort over a season, wasted. The result is not representative of what we witnessed, a fact pointed out by Johanne Defay in reference to her own flabby end.
Gilmore looked confused afterwards. She didn't like the format, she said. Now she thinks it's the best thing ever. At least she had the good grace to acknowledge that Carissa was the best surfer of the season. In my mind, she is much better in a lifetime.
Except that's not what history will say.
As for the men, Toledo's first title was a predictable result you would have been foolish to bet against. Luckily I didn't in the end.
Do you accept the fragile Brazilian as your champion? His skills are beyond doubt, of course. Under certain conditions, it is without equal. His technical mastery of a surfboard is unmatched.
His commitment is not so certain.
Call me old fashioned, but I think our world champion should be a surfer who we believe has the ability to win at any stage of the Tour. Filipe Toledo is not that surfer, and yet here we are.
I don't want to insist on this point. Toledo's history and lackluster performance on some of the world's most iconic waves is now well documented, to the point where it has become commonplace to point it out. If he hasn't progressed, it's on him.
There may still be time.
I don't blame him for his title. I have no doubt that he worked for it. But I just can't bring myself to fully endorse it. At least I guess he was the points leader, so if Trestles had been the last stop under the normal format he probably would have won.
But consider this: if the waves had been good all year, where would it be? His best finishes were: Portugal (average to poor), Bells (decent to good), G-Land (junk), El Salvador (junk), Rio (junk).
Let's move on.
The WSL has halted all production shutdowns for Finals Day. The whole team was there, each of the assigned roles that I assumed were supposed to play to their strengths. But the overall quality was reminiscent of a traveling fair.
A lot of noise has been made about the colors of the jerseys. Admittedly, they were rather charming (if entirely unnecessary), and I'm sure the result of many, many enthusiastic meetings. Sadly, it's all been undermined by the incredibly amateurish work of stitching the athletes' bio photos onto mock jerseys, giving the whole thing a sheen of amateurishness.
Who the hell buys the merch they were producing anyway?
Fortunately, Chris Cote was perfect in his WWE style announcing the surfers as they took the stage, visibly grimacing. I hope and presume he deliberately muddled this.
In any case, no cheers were raised by a seemingly absent crowd.
It was a little hard to get excited about, especially given the recent memories of Teahupo'o and clips of pumping Pipe in commercial breaks. The two provided a comic juxtaposition to the Days of Anointed Days we were witnessing. It almost sounded like a deliberate mockery.
Kanoa limped off a troubling and nervous Italo, who continued to vibrate throughout the day. The most memorable moment of their heat came in the opening minutes as they both attempted to paddle in the same wave. Apparently the priority had not been established. No drama, no tension. The theme of the day.
Catching up with Connor Coffin in the pit (a surfer, if you recall, is no longer on tour after dropping out mid-season) instead of deepening the tension between Kanoa and Italo was the WSL peak.
Ethan was next to fall for Italo's silent rage, then Jack.
Honestly, I can't remember a single moment from those rounds that is worth recounting here.
Two captivating surfers who have emerged as contenders this year, Ethan in his good looks and Jack in his mysticism, vaporized by Italo's relentless waves and high-tailed flips as if they weren't worthy of be there in the first place.
What a waste of everything they did to get there. What a waste of their artistic talent.
It wasn't their fault, it was the canvas they had been given.
Trestles was always going to be a place that punished Ethan and Jack, two men raised on a steady diet of real waves. Their surfing has been perfected through power and consequence. Seeing them stunted by the sparkling Californian dribble on the cobblestones was a bit like trapping their nature, squeezing it into an environment where it did not belong.
Ewing was an albatross in an aviary, wings clipped and saddened. Watching him force his back foot into turns on weak sections was not only demoralizing but borderline offensive.
Robinson was a caged lion. His great power was there somewhere, but he was doomed to walk back and forth, back and forth, while the steel bars scratched his sides and the blood flowed freely on the floor. We saw his season bleed in that Trestles cage, and that felt tragic to me.
He's a man whose surfing can be transcendent in waves most of us can only dream of. He has a capacity for power far beyond the ordinary.
That's what it means to be the best in the world.
Critics of the format may feel armed and vindicated citing Robinson and Ewing's performances this year in relation to how they left the conversation.
Both were extinguished by Italo's pure energy. Fifteen bends and a few pirouettes to the beach. Impressive in a way, but I couldn't help but think that pro surfing had taken a step backwards.
Filipe won the last game against Italo 2-0. Hardly a surprise.
I was struck by the fact that Italo was at a significant disadvantage. He had already surfed and scored on three legs already. Coming into his fourth and fifth, what else could he do to create a point of difference?
You could reasonably point to Gilmore's victory as a counter-argument, but the skill repertoire among women is less diverse.
Well, that was it. End of season.
I don't have the chance, like Charlie Smith, to take the temperature of the famous cobblestones of Trestles. It's a shame, because I would surely do a great job on the pitch.
I was where I've been all season for Finals Day, behind a screen, with you. In many ways, I guess that's the real experience. We are the real fans.
But I'd be lying if I said I haven't entertained daydreams during this season, between classes, walking the dog, amid domestic quarrels…dreams of following the Stop-to-stop Tour, Pipe in Portugal , Tahiti in Trestles, soaking up everything, understanding what is really going on.
It would be a real report. I'm sure observing the machinations up close would lead to wild and prolific stories. And I wouldn't be caught up in bliss like the WSL workers and surf journalists of old, wandering blind and salty from competition to competition, doing half the work.
I would support Kelly Slater's steely gaze while justifying my criticism.
I counted the beads of sweat on Filipe Toledo's forehead as Surfline released event forecasts.
I knocked on Dave Prodan's door and asked directly, face to face: "Has Italo Ferreira been tested for doping this season? When and how often? ".
Are you listening, Eric Logan? If the WSL is such a budding success, with a swelling audience, skyrocketing revenue, growth, growth, growth, then where is the money?
Real sports leagues have full-time independent media outlets to cater to fans' desires. The WSL has me, Shearer, a few podcasters, and whatever the Stab monkey is tasked with filling out the pro-forma.
Pro surfing, ladies and gentlemen.
As irrelevant as he always was.
But still, I can't help but think it could be better. Instead of rolling out a roster of professional surf-adjacent hangers on – Tom Carroll (God loves him), Bethany Hamilton, Parker Coffin, Lisa Anderson, etc. – Rip Curl and the WSL could make a much better investment funding independent voices rather than the same old WSL employees and half-baked pros who just send it in the mail.
I can't for the life of me understand why most of them are still in the fold.
They offer nothing.
Rosie's apartment. Joe is Joe. Even Ronnie has lost his shine.
The new blood, Laura and Dimity, burst and then fell apart.
Did you listen to Laura yesterday? Absolutely nothing to say.
And Kaipo. Dude, Kaipo…
Again – what hold does he have on the brass of the WSL? Rarely have I seen a more inept media personality.
The BBC was at my school yesterday promoting storytelling. They had a small production team and a few media personalities. When they invited the audience to ask questions, the majority of 13-year-olds in the room did a better job than Kaipo. Its equivalent was the kids in the back row who kept raising their hands and asking, "Which football team do you support?", even though their buddies had already asked the same question, twice, and even though the answer had been "I" I'm sorry, but I'm not really football.
The success of the new format can be debated, but the WSL product as a whole still fails even its most ardent proponents.
While the result was ultimately reasonable for the men, and the weather nice enough, to paraphrase Joseph Conrad in Heart of Darkness, for me there was a bank of black clouds and my feelings flowed dark and unreturning under a sky covered.
And while that doesn't exactly lead to the heart of immense darkness, and no matter how Logan's hype machine might spin it, professional surfing, as a product, remains in a looming twilight.
Either way, it was fun sharing it with you loyal Beachgritters. Real people with real opinions. I hope you enjoy this place, as I do, as a place where individual voices can still be heard.
In a spin world, that's definitely worth something.
Thanks for sharing some with me.