The Artist's Surreal Architecture Series Combines Design and Photography
---
Photographer, artist and printmaker Tom Leighton has captured the architecture of Dubai and Abu Dhabi in a series of surreal photos that masterfully blend design and photography.
UK-based Leighton trained at Royal College London where he learned to expertly layer and manipulate photographic pieces. The central theme of his work is the environment, whether it's 'foliage nightlife' in his 'Variegation' series or powerful, modern structures without surroundings, featured in his latest project 'Loci'.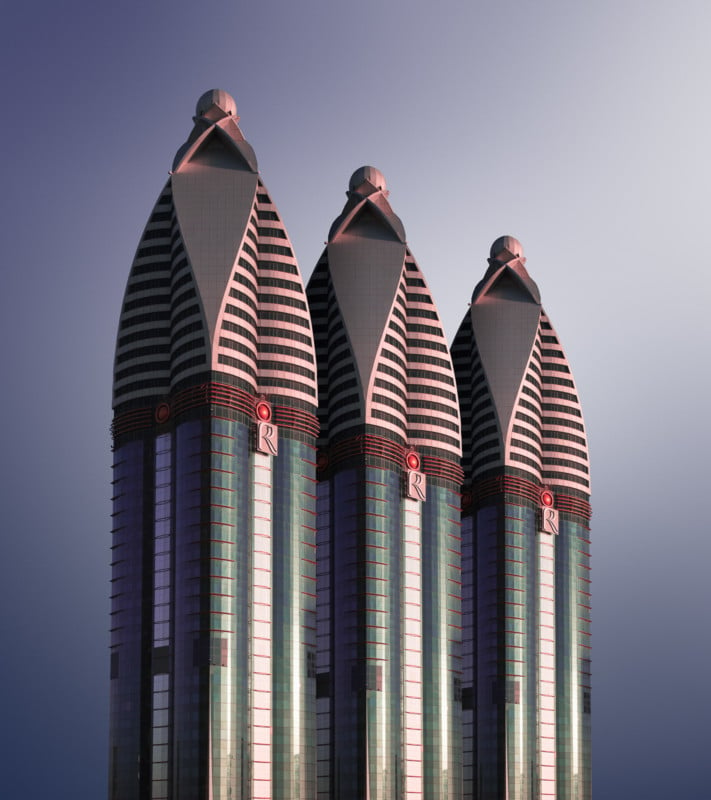 "Although almost all of my work involves photography as part of the process, I chose to study printmaking rather than majoring in photography," Leighton said. PetaPixel. "I was then able to research how different printing media, such as engraving and screen printing, could have an impact on the photographic image, through the process of manipulation, stripping and deconstruction.
"During my MA at the Royal College of Art, I was experimenting with these possibilities alongside my groundwork on the digital manipulation of photography," he adds. "Aspects of each of the practices fed and informed the other – and I think that helped me develop a fairly malleable approach to photographic composition."
Architecture photos that go even further
"Loci" was developed as a result of Leighton's experiments in isolating and removing context from these large structures in his photos. As he began to manipulate, multiply and color them, "they became less of a direct representation of places and more of a distorted memory".
It was the blurred gradient backgrounds that added a surreal, disconnected quality, which Leighton wanted to explore further in the series. For this project, he chose buildings in Dubai and Abu Dhabi.
"My visits to these cities were quite brief, but the lasting memory of experiencing these places was the ambition and diversity of the megastructures jostling for position in the desert environment," he explains.
"The elaborate and unrestricted design made them perfect for creating these surreal sculptural forms", which are further distorted and their geometric precision is emphasized.
"Devoid of environment and context, buildings now become sculptures that are about form rather than function," he adds.
From the initial idea to the final photo
In the process of this and other architecture-based series, Leighton tries to capture buildings from every angle imaginable. This often means looking for high vantage points in adjacent buildings, rooftops, and even fairground rides.
"Often different views of the same building will be in one composition, so it's important to put all the pieces of my future puzzle together while I'm filming," says Leighton. "Sometimes you can find the perfect assembly component in a plan that was previously overlooked."
During the editing phase, Leighton does not follow a strict workflow. Instead, he tries different techniques and combinations, allowing the final concept to evolve organically. Sometimes that also means dropping some of the drafts along the way, only to emerge later as part of a cohesive collection.
Future photo projects are calling you
Because he was limited by pandemic travel regulations, Leighton focused on local areas.
"I live in a rural area and this shift has been from architecture to rock formations and woods," he explains. "There are certainly parallels in the way I approach the two and I hope the opportunity to experiment will have a lasting influence on my future work."
But, with the world slowly opening up, Leighton is eager to visit new countries and cities to collect material for his future work.
Other work by Leighton is available on her website and Instagram.
---
Picture credits: Photos by Tom Leighton.