Meet NZINGHA, makeup artist to Lil Kim, Mary J. Blige and Janet Jackson
---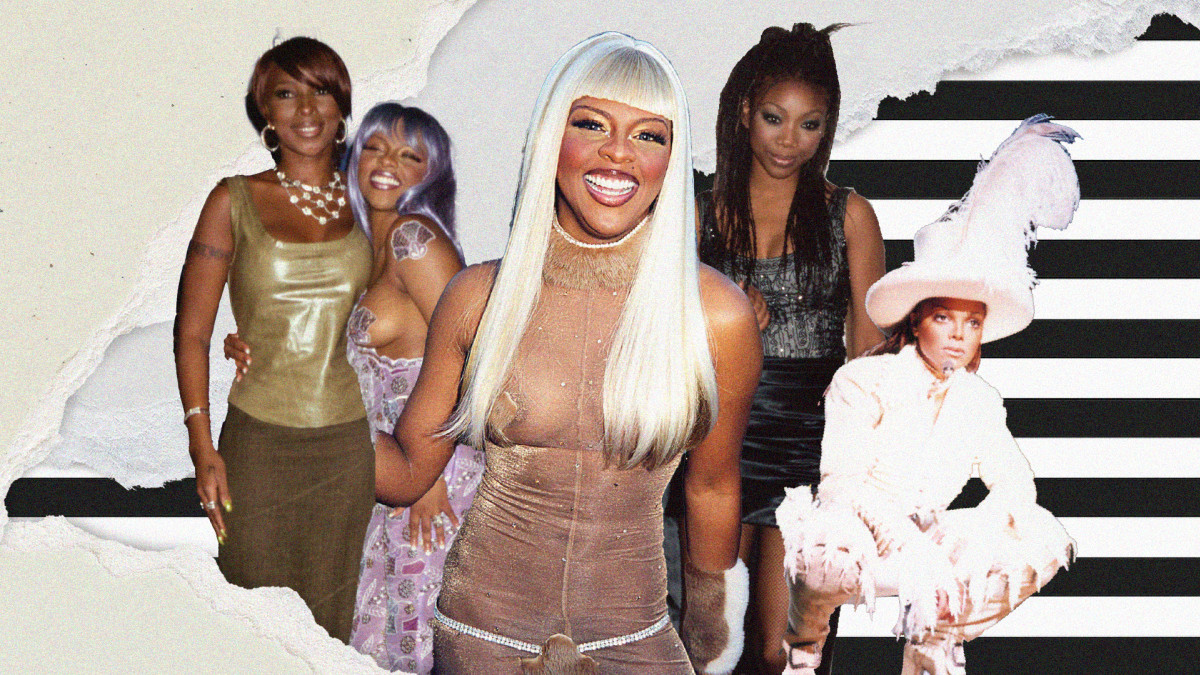 When Lil' Kim was about to release his second album, The notorious KIM., released in June 2000, NZINGHA, her make-up artist at the time, had some ideas.
First, she thought Lil' Kim should work with David LaChapelle, the famous photographer known for his surreal, bright, and fantastical images. NZINGHA was friends with LaChapelle — he was a fan of her work, which was also bright and bold — and NZINGHA believed LaChapelle could capture Lil' Kim as the superhero she always imagined her to be.
"You know he's Pisces. So he's kinetic," NZINGHA says in her slightly faded British accent as she sits on a hot pink sofa in her living room in Jersey City, wearing a royal blue chiffon dress. "I don't know if they hit it off immediately, but I guess he struck a chord in her head and she agreed."
After that was sorted, they met over the album cover. NZINGHA brought a stack of vintage fashion books and comics to show off her credentials and showcase her makeup concepts. One such concept was to tattoo Lil' Kim's body with the Louis Vuitton logo. NZINGHA says she has always loved Louis Vuitton because of its cocoa and beige palette that matched skin tones. She was also a huge Dapper Dan fan. In the 80s, a drug dealer she was dating bought her a top and matching skirt with the Louis Vuitton monogram logo made by Dapper Dan. Everyone approved of the makeup concept, including Louis Vuitton. NZINGHA and his assistants spent six hours preparing Kim's body for the shoot, which eventually ended up on the cover of Interview magazine (more on that later).
NZINGHA talks about it with a laissez-faire attitude, as if it didn't help create one of fashion's most important images, but maybe that's because it's just one of many ideas. that she has brought to the fashion and makeup industry over the past 35 years. .
NZINGHA, who was born in the Bronx but partially raised in the UK, had a life and lineage that prepared her for a career producing innovative make-up and imagery that uplifted her clients, especially its black clients, who were constantly asked what type of image they should present to the world.
NZINGHA spent her childhood jumping from country to country because, unbeknownst to her, her father, a music teacher and political activist named Charles Peaker, who was also a leader of the African Nationalist Pioneer Movement and therefore wanted by the FBI. Her mother Jean Gumbs was part of the Grandassa Models, a group of models formed by her uncle Bob Gumbs, his godfathers Kwame Brathwaite and Elombe Brath in the 60s, and others who formed The African Jazz Art Society & Studio, which promoted natural black beauty with imagery, jazz concerts and events like a parade fashion on tour. NZINGHA also had a grandmother who was a seamstress who helped a woman working in NBC's wardrobe department, and a grandfather who was a professional photographer.
"It's all in the blood," says NZINGHA, who also considers her Caribbean background inspirational. "The way I was raised expanded my visual palette."
But NZINGHA didn't know being a makeup artist was a career until she saw the filming of Michael Jackson's 'Thriller' music video on TV, which featured artist Rick Baker turning the cast into monsters and wolves. -were.
"I was in love instantly, but I didn't know it would be my way," says NZINGHA.
But NZINGHA pursued the art of makeup and started working on her high school stage productions. She planned to be a lawyer until she worked as a makeup artist at an Avon event and a more established artist was so impressed with her work that she asked NZINGHA to help her on a shoot for black hair care magazine. NZINGHA was helping and working on the basis of his natural talent; she had no professional training outside of a two-day course with an artist who worked at Il Makiage makeup shop in New York and used to do Diana Ross makeup.
Eventually, that led her to other jobs, including working with R&B singer Freddie Jackson, grooming Kris Kross, and moving to Minneapolis to work for Prince with Jimmy Jam and Terry Lewis. This last job helped her land a job as a makeup artist on Janet Jackson's Janet Jackson Tour. Here, NZINGHA talks about her career as a makeup artist; the stories behind some of his most memorable works with artists such as Mary J. Blige, Brandy and Erykah Badu; and what she believes to be her greatest contribution to the beauty industry.