Local artist Rosemary Connelly will sign books on May 26
---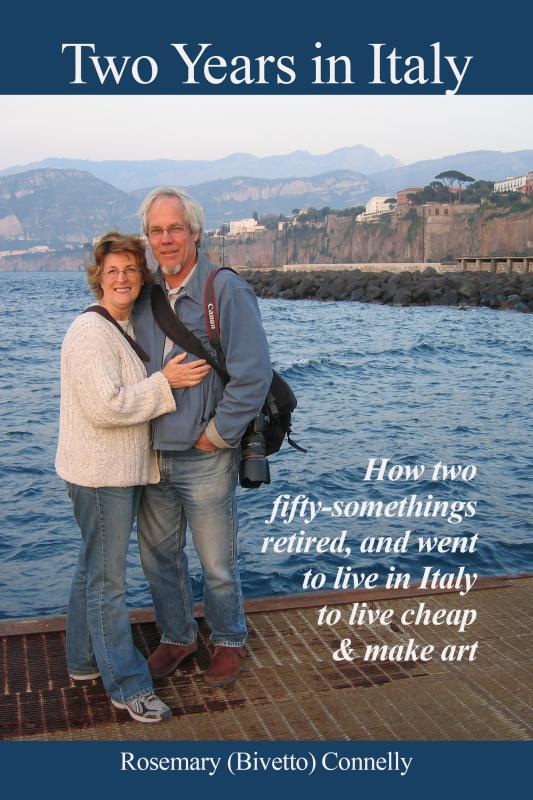 Rosemary Connelly's new travel diary, "Two Years in Italy", is now available on Amazon.com in print and as a Kindle eBook.
Written about her experiences living in Italy with her late husband, photographer Bob Connelly, the book's full title is "Two Years in Italy: How Two 50-Year-Olds Retired and Moved to Italy to Live Low and Make art".
A reading and book signing will be held from 6:30-8 p.m., Thursday, May 26, at Mispillion Art League, 5 N. Walnut St., Milford. A limited number of books will be available for purchase.
While in Italy, Connelly wrote the blog Live Cheap & Make Art – Rosemary & Bob's Italian Adventure. In her book, she took these blog entries and edited them, eliminated superfluous details, refined others, and cleaned up what she calls her stream-of-consciousness writing.
The name of the blog comes from a conversation Rosemary had with Bob. He asked her what she wanted to do when they retired, and she said, "I just want to live cheap and make art," meaning she wanted to live a simple life devoted to creation and appreciation of art, focusing on experiences and not accumulating a lot of things. It became their studio name and lifeline.
With over 60 color photographs and watercolors, "Two Years in Italy" chronicles how Rosemary and Bob retired, sold their house in Phoenix, stored their belongings, obtained visas and went to live in Italy on a firefighter's pension. . . They lived simply and inexpensively, renting small furnished apartments in four different regions. Not fully fluent in Italian, they studied hard and were able to communicate and make friends. They drank cheap wine and ate fresh cheese, pasta and pizza. Rosemary researched her Italian roots and found ancestors dating back centuries. Their experiences included exploring markets, cooking in tiny kitchens, and attending festivals. They traveled by car, bus, train, plane and ferry, exploring each region with enthusiasm and a willingness to say yes to whatever each day brought.
"To be with this man I adore, on this incredible journey, is a gift. I yearn to accept what comes next without fear; to simplify our lives and let go of THINGS, hoping that we will be wiser, with a new outlook on life," Connor wrote.
Written in diary form, the book describes their adventures in detail, sometimes looking forward, sometimes looking back, but always with excitement, joy, a little frustration and a little heartache.
For more information, contact Rosemary Connelly at [email protected] and visit livecheapmakeart.com.