Lewes Artists Studio Tour returns September 17
---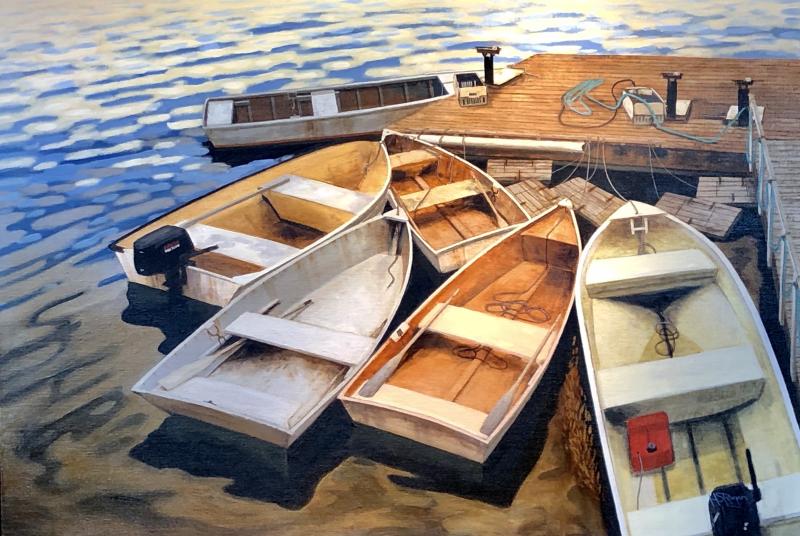 A group of well-known artists and artisans in the area will showcase their work during the Lewes Artist Studio Tour from 10 a.m. to 4 p.m., Saturday, September 17.
Free, the one-day visit offers a unique opportunity to visit many artists in their studios and see their works; each artist will have a selection available for purchase. The studios are all located within a short drive of downtown Lewes.
Several of the artists on the tour will host one or more guest artists. There will be free raffles at each artist's location and drawings will take place at the end of the day at each studio.
Artists include Mary Louise Lauffer with sterling silver jewelry and mixed media; Joan Fabbri, watercolors; Betsy Von Dreele, fiber collages; Jean Doran, oil and acrylic; Marta Nammack, photography; Bev Harrington, goldsmith and glass art; Bonnie White, acrylic and watercolour; Nina Mickelsen, acrylic, etching in mixed media; Leslie McDonald, watercolour; Judy Demeno, pottery; Fred Dylla, white line woodcuts; Kathy Brady, painting, multiple media; Teresa Kehrer, botanical art and wearables; Jeff Watson, pottery; Sarah Pavlik, art quilts and mixed media; Marilyn Nugent, lamp-worked glass beads; Steve Rogers, oil and acrylic; and Ruth Ann Kaufman, water media.
Nina Mickelsen's work is rooted in Nordic design. Crisp, vivid colors, bold shapes, and sharp, strong lines convey energy, strength, and movement in his work. His studio is an incredible space set up with areas for every part of his artistic process. Visitors can see the inner workings of Mickelsen's art that are missed in a gallery display.
Best known for his maritime-themed paintings and landscapes, Steve Rogers' work reflects his lifelong love for all things workboats found in the waters along the Mid-Atlantic. Just outside Rogers' studio is a beautiful view of the canal.
A trained physicist, Fred Dylla combines a lifelong love of woodworking with his interest in watercolor painting. The medium of white line woodcut is a perfect blend of his two artistic passions. Kathy Brady experiments with all forms of artistic media using vibrant colors and textures. For her, painting is an exuberant process to which she brings energy and enthusiasm.
A member of the Philadelphia Watercolor Society, Bonnie White captures the memory of a moment in a fluid and contemporary way. Many of his works are now part of corporate and private collections. Sarah Pavlik's studio is a hidden gem beyond the garden in her backyard, where she creates large, bold contemporary quilts.
Customers return each year to discover new works by some of their favorite artists and craftspeople and to meet new ones. They like to chat with the artists, discover their process and what inspires them in their creations. Being admitted to an artist's studio is a unique experience that must be shared.
Brochures with artist location maps are available at many galleries and at the Lewes Chamber of Commerce.
For a printable brochure and map, go to lewesartistsstudiotour.com.