Find out why Asthetik is the ultimate local event space + studio
---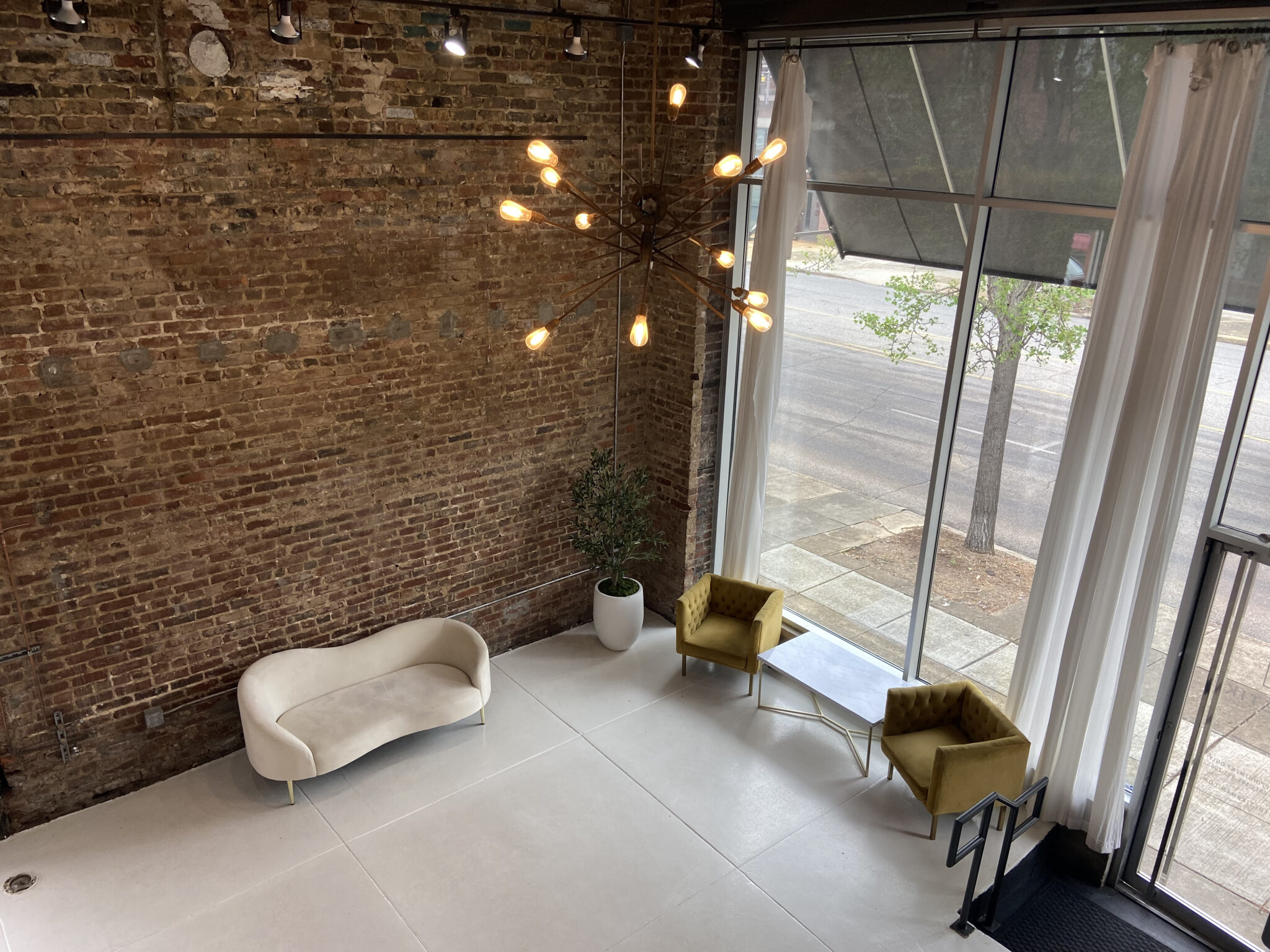 From photoshoots with your best friends to small weddings, Asthetik has 1,700 square feet of creative space that can easily transform for any special occasion. With natural light, exposed brickwork, beautiful furnishings and more, here's why Birmingham locals love this local event space and photography studio.
behind the business
Dontez and Jamie Heard are the cool couple behind Asthetik, a local photo studio and event space in Birmingham. Dontez having been a photographer for over a decade and Jamie being creative director and editorial stylist, this husband-wife duo knows a thing or two about curating a space.
They started by hosting small events like photoshoots outside of their own homes, and eventually learned that they needed to expand in order to separate work from their living space.
Luckily, Asthetik's downtown location ticked off all of their must-have amenities. With exposed brickwork, high ceilings and floor-to-ceiling windows, they knew this would be the perfect location for their unique business.
"We want to be able to provide space and resources for other creatives like us who inspire and empower their creativity. [Our] the space can be transformed from a blank canvas, allowing others to create according to their visual needs.

Jamie and Dontez Heard, Owners, Asthetik
What's even more special is that they were able to inspire other aspiring business owners in the community with what they learned along the way.
"While we feel we still have a lot to learn, it's amazing how many calls and emails we get from others who look to us for inspiration. People feel at home. comfortable asking us for advice, tips and how we did it The fact that they don't know us personally, but feel comfortable coming to see us, lets us know that we are doing something good.

Jamie and Dontez Heard, Owners, Asthetik
Take your event to the next level
In this charming place, each room offers a new opportunity to let your creativity shine. When you book your event or studio time with Asthetik, you have access to every room in the building, including the furniture.
For the perfect photo or a beautifully lit daytime event, the main room is the perfect spot. There is abundant natural lighting and exposed brickwork for a great neutral backdrop. Also, if you have a certain theme in mind for your event, colorful backdrops can be provided.
Want music to entertain your guests, but would like to save money on a DJ? The room is equipped with a sound system which connects to your phone. For these touch-ups mid-photo shoot, Asthetik also provides its clients with a professional make-up station.
Take a stroll up the spiral staircase and you'll be greeted with a space for the mirror selfies of your dreams, complete with a green wall and huge golden mirrors.
Adjacent to the main room, another bright room offers controlled lighting and a neutral canvas wall, perfect for entertaining and photo shoots.
Here you will have access to a modern prep kitchen, equipped with a fridge, sink and table with island. Additionally, Asthetik can install a curtain to hide the kitchen if you want to work behind the scenes.
Keep in mind that the rooms as you see them above are a blank canvas for your event. Each space can be redesigned and decorated to make your special occasion magical.
For more inspiration, check out their Instagram feed:
get down
You're going to Asthetik and you're getting married? Yes, you read correctly. It's no secret that countless weddings have had to be canceled due to the pandemic. As a solution, Jamie and Dontez decided to offer a very special option for intimate weddings – the get down wrap.
The Heards describe this much-requested reservation as a classier version of Vegas-style elopements. Can accommodate up to 50 guests, get down packages include everything you need for your perfect day:
aperitif time
a champagne toast
beautiful decor for the ceremony
a beautiful one-tier cake
and of course, the officiant
All you have to do is invite the guests and show up to the party! The package includes 20 people, but can accommodate up to 50 people at an additional cost.
In the future, the Asthetik team plans to improve this package, so stay tuned for exciting updates.
It's time to book your event
Ready to book? Complete the request form studio time or one event space rental to start your consultation. You'll even get a 3D rendering so you can visualize the event of your dreams.
Visit their website for a complete list of prizes, rules and other important details.
Location: 212 24th St N, Birmingham, AL 35203
For more content like this, sign up for our free newsletter straight to your inbox.