Executive to executive, site to site, Conway retires after 27 years of excellence
---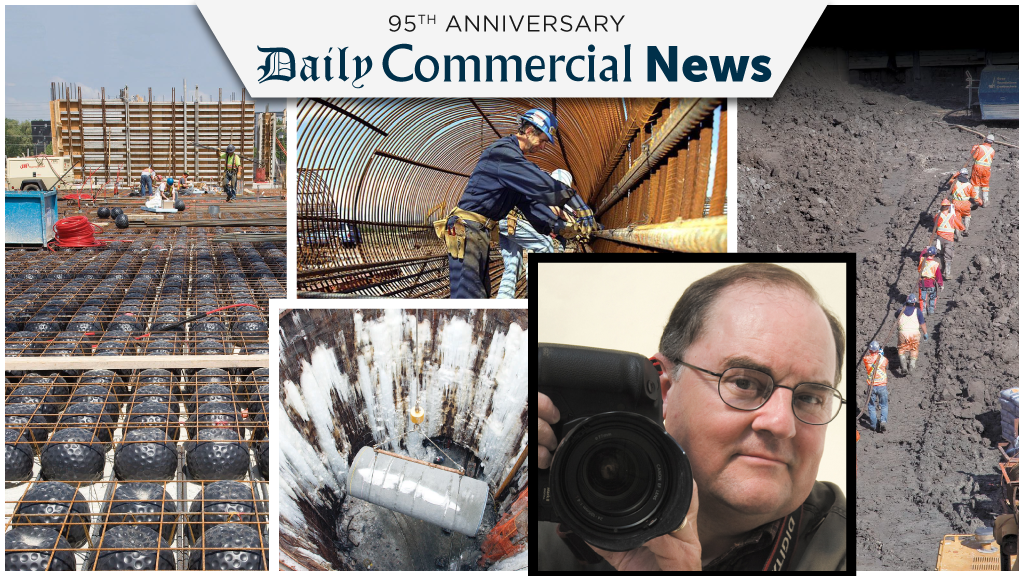 The Daily Commercial News (DCN) will celebrate its 95th anniversary on November 8. In anticipation of this milestone, the team has created special items that come straight from our newsprint, including this celebration by renowned DCN photographer William Conway.
William Conway, a master in his art of construction photography, recently retired from capturing the magic, intricacy and beauty of a construction site through his lens.
"After much deliberation, I have decided to retire," Conway said when announcing his retirement. "I have thoroughly enjoyed the 27 year relationship with DCN and all the wonderful people I have worked with over the years."
Photography of Conway's construction progress has become a staple of the DCN, his photos gracing both its front page and inside pages hundreds of times. In an age when anyone can be a photographer, or think they are, thanks to a smartphone, photography can seem quite easy to do.
Well, a scan of Conway's work tells a different story.
His ability to apply his talent for composition, to understand the pace of a construction site or the complexity of a worker's task, delivered images that were the pride of the industry and the DCN.
During his award-winning career, Conway has had to tackle the most impactful change his craft has faced in its 200-year history, the evolution from film to digital photography. Whether sending hard copies for the photo selection to DCN, providing us with a Flickr link, or emailing them as attachments, one thing has never changed, Conway left many options to choose from.
His son Ian has also been taking photos of construction progress for the DCN for a few years now, as his father has strayed from his usual pace.
Ian was also the creator of our DCN Drone Zone films, a new tool for capturing the enormity and scale of the construction site. We are honored to be the vehicle through which this transition has occurred.
For many members of the DCN family, new and old, William was a friendly face at industry events to talk shop with, whether photography or construction.
As the DCN celebrates its 95th anniversary this year, we can firmly say that its contribution has not only enhanced the publication, helping to further solidify it as the definitive source of construction information, but has also introduced construction in a stunning light, from frame to frame. .
We wish William all the best as he now takes the time to enjoy his family and grandchildren… and we bet his camera won't be too far away like he does.