Dean Art Studio provides workspaces for 20 multidisciplinary artists
---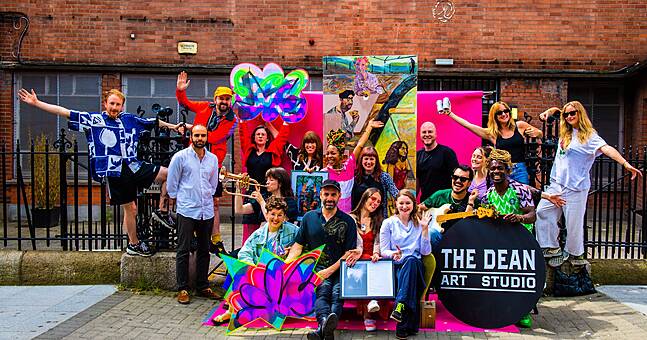 Dean Art Studios launched on July 28 with an event hosted by Panti Bliss.
Dean Arts Studios has opened a new venue, with 20 workspaces available to Irish artists from all mediums. Creatives include musicians, actors, writers, painters, etc.
The Chatham Street complex was opened at the initiative of Press Up Hospitality Group with the aim of investing in, uplifting and supporting Irish artists of all disciplines. Press Up is dedicated to this mission and has invested over €1 million in emerging Irish artists in the past three years alone.
The new residents were chosen from more than 150 applicants by a panel of arts and culture professionals. These residents include multidisciplinary artists Jesse Jones and Chinedum Muotto; sculptors Nuala O'Donovan and Karen Donnellan; screenwriter and screenwriter Sonya Kelly; author Olivia Fitzsimons; photographers Vera Ryklova and Letizia Lopreiato; painters Owen De Forge and Brid Higgins; set designer and costume designer Katie Davenport; musicians, composers and performers Adrian Crowley, Jessica Kavanagh, Ena Brennan (Dowry) and Rafino Murphy (Uly); Afro-Brazilian dancer and choreographer Alessandra Azevedo; Iranian artist Diaa Lagan; urban lifestyle magazine Slight Motif; writer and actor Shane O'Reilly.
NCAD Graduate painter Carl Hickey has also been assigned studio space as part of DAS's partnership with NCAD. DAS is committed to the annual purchase of one piece of graduate art to add to the Press Up art collection. Art activist Thais Muniz joins artists Brian Teeling, Salvatore of Lucan and Elayne Harrington in the IMMA x Dean Art Studios residency program.
Dean Art Studios' seated residents include boundary-breaking theater makers THIS IS POP BABY; Irish music incubator First Music Contact; music photographer Ruth Medjber; singer-songwriter Paul Noonan; embroidery artist Domino Whisker and contemporary artists Leah Hewson and Aoife Scott.
Irish refugee charity The SCOOP Foundation has been allocated a studio, which it will allocate to rotating artists in residence. Art therapist Oksana Tsymbalova, who headed the art studio at the Odessa Museum of Science and Art before the outbreak of war in Ukraine, also joins the DAS.
"The Dean Art Studio is an environment that understands and supports artists, and this residency allows me to engage in my practice in a way that respects my work, without the added financial pressures that can disrupt the creative process," explains photographer Vera Ryklova. .
The studios launched on July 28, with an event hosted by Panti Bliss: Queen of Ireland.