Artist Laura Villanyi – Hamilton County reporter
---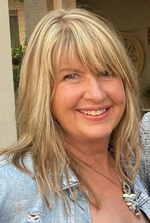 By LAURA MASONI
City of fishermen
Fisherman's City is proud to recognize longtime Fisherman's resident and artist Laura Villanyi as the winner of this year's Fisherman's City clothing design contest.
The clothing design competition took place at the end of 2021, where residents were invited to submit their designs to be included on clothing sold in the city's online store. This was the second year of the contest.
Villanyi moved to Fishers from Indianapolis in 1978, where she has resided ever since.
"At the time, I felt like a pioneer fisherman," she said. Laura graduated from Hamilton Southeastern High School, and while she was a member of the royal family, she had an amazing art teacher who helped launch her into her current career as an artist. "He really encouraged me as an artist."
After graduating from HSE, Villanyi went to Purdue University where she earned a bachelor's degree in art history with a minor in graphic arts. Her talents have taken her to many different artistic jobs throughout her career. "I have been an illustrator, photographer, ceramist, flame worker and calligrapher," she explained.
For 15 years, she worked in the sale of glass beads, which she made by hand and turned into jewelry. However, she now focuses on calligraphy and illustrations. Her background in calligraphy helped her create her design for the clothing contest.
Alongside her projects, she is also president of the Fishers Arts Council. It was through her role that she discovered this competition.
"I was at City Hall and saw a postcard about this t-shirt contest, so I thought 'Oh wow, I can do this!'" she said .

In addition to her clothing design, Villanyi also won $250, which she plans to reinvest directly into her art by purchasing art supplies for her upcoming projects.
As of now, she is developing a complex alphabet coloring book which she hopes to publish in the future, as well as other similar projects.
Visit the Fishers Clothing Store to purchase Villanyi's winning design on a t-shirt as well as other unique Fishers items.